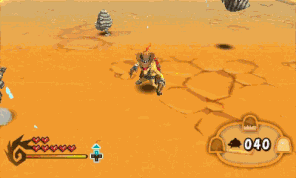 The
Arma-Mode
is the effect of the
Ancient Buckle
.
Dillon
briefly becomes invincible and his attacks become stronger. During Arma-Mode, the grind attack last longer and deals damage quicker.
Use
In order to activate Arma-Mode, Dillon must first fill the meter in the bottom-right corner of the screen with energy, obtained by defeating various Grocks and smashing rocks and cacti. After the meter is fully charged, it will glow alternately between yellow and red.
Pressing up on the Control Pad will activate Arma-Mode (or Arma-Charge if the player has upgraded to the Armedo buckle). Arma-Mode grants Dillon invincibility, as well as a greatly prolonged grind attack, stunning attacking Grocks that make contact, and a stronger roll attack with a faster charge. Arma-Charge differs in that targets are automatically selected.
Arma-Mode can be deactivated by hitting "Up" on the D-pad at anytime while it's still active. Dillon will also automically cancel Arma-Mode if he runs out of energy or finishes the current battle before he runs out energy. He can only activate Arma-Mode again once the meter is completely refilled.
Trivia
At the activation of the Arma-Mode any grock that are weak have a chance to be defeated by the blast effect.