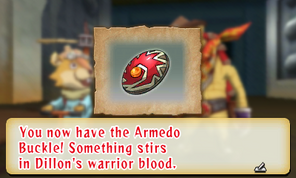 The Armedo Buckle is the evolved form of the Ancient Buckle, evolved through the addition of the jewel, the Eye of Armedo , and unlocks Arma-Charge.
In-game Description
"The Eye of Armedo is an ancient ornament with a glowing red design."
Use
The enhanced Arma-Charge is not very different from Arma-Mode, its only differences being that the attacks are somewhat stronger and that targets are automatically selected, eliminating the hassle of having to aim at individual Grocks.
All of the Dillon's Rolling Western Items.
Other
Scruffles • Red Scruffles • Dynamite • Scruffle-Sap Bug • Grock Coins
Drinks
Tonic • Snake Oil
Crystals
Freeze • Bomb •  Home •  Speed •  Plug •  Wonder Bomb • Shield
Gear
Basic Bandana •  Brawling Bandana •  Macho Bandana
Minerals
Talc • Pagodite • Gypsum •  Babium • Kidinite •  Oldstone
Ores
Shards •  Nuggets •  Chunks •  Stone •  Pumice Dust •  Grassyte
Gems
Pebble Bubble •  Candy Drop •  Earth Dew •  Green Eye •  Ambernite

Blood Marine •  Orchid Heart •  Aquacite •  Mephistite •  Aurolia

Treasure
Beryl •  Serpentine •  Chrysolite •  Malachite •  Lapis Lazuli
Medicine
Medicinal Herb •  Denarium •  Sun Moss •  Cactus Lizard •  Drowsy Blossom

Scruffroom •  Slideberry •  Raindrop •  Ghost Leaf •  Reviving Bettle
Ad blocker interference detected!
Wikia is a free-to-use site that makes money from advertising. We have a modified experience for viewers using ad blockers

Wikia is not accessible if you've made further modifications. Remove the custom ad blocker rule(s) and the page will load as expected.