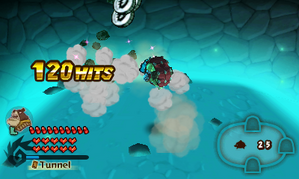 Hit Combo
is related with number of continuous linked attacks (in battle field or mining) made by the various
Dillon
's abilities:
Roll Attack
,
Claw Attack
,
Charged Attack
, 
Grind Attack
,
Drift Attack
, and/or
Tunnel Attack
. The most easy way for a higher hit score is using the
Grind Attack
with the lowest level equipment:
Basic Spikes
or
Silver Spikes
. The Hit combo rewards the player with items and money, higher scores producing much more precious rewards. For each 10 hits Dillon receive one little amount of

, which nearly doubles for each 10 hits above.
List of Earnings
Regular Earnings
This applies to most grocks and objects:
Golden Earnings
The linked attacks can normally spawning 

 10 every 10-hits, 

 20 for 20-hits, 

 50 for 30-hits in this list. But fighting against Golden Grocks, the same list have the speed tripled. This applies to any type of Goldgrock:
Gallery
Trivia
If Dillon continuously link Grind Attacks with Boss-type grocks, namely Diregrocks and Vulcangrocks, combos above 100 can easily be reached with a combination of grinds.
If Dillon continually link Grind Attacks, the number of Hits changing colors according with this list:

Yellow 2 - 19 Hits
Green 20 - 29 Hits
Blue 30 - 49 Hits
Red 50 - 69 Hits
Purple 70 - 99 Hits
Gold 100 Hits or more
Ad blocker interference detected!
Wikia is a free-to-use site that makes money from advertising. We have a modified experience for viewers using ad blockers

Wikia is not accessible if you've made further modifications. Remove the custom ad blocker rule(s) and the page will load as expected.