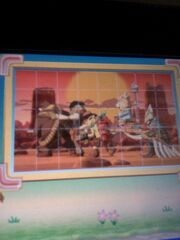 In the game Mii Plaza., there is a featured puzzle pannel that includes 
Dillon's Rolling Western: The Last Ranger
, which came on May 24th. It features
Dillon
,
Russ
,
Gallo
,
Boone
, and
Nomad
. The animation of the puzzle once its completed is walking as he is joined by his companions as they attack a
Footgrock
. The puzzle has 40 pieces, eight of which are pink pieces that are only recieved by other Miis met through StreetPass or Special Miis met through SpotPass.
Ad blocker interference detected!
Wikia is a free-to-use site that makes money from advertising. We have a modified experience for viewers using ad blockers

Wikia is not accessible if you've made further modifications. Remove the custom ad blocker rule(s) and the page will load as expected.